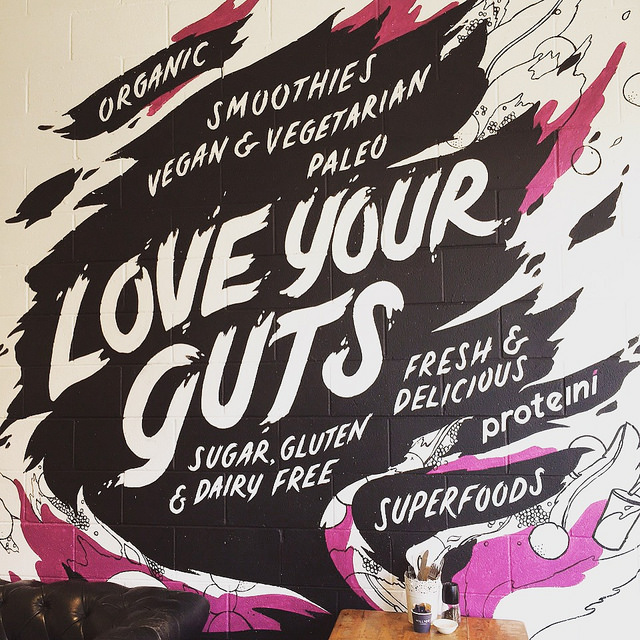 For the last year I've followed a Paleo and low-FODMAP diet to address numerous food allergies and begin healing my digestive tract. While the restrictions are difficult at times, I still have plenty of ingredients I can combine at home to make healthy, delicious meals.
As much as I've come to love cooking, I adore going out for a good meal with my husband, friends, or family. That's been pretty tricky to do with my long list of foods to avoid, but once we decided to go to Australia, I was determined to find a few safe places to eat during our recent 3-week trip.
A few years ago, I lived in Australia for a year, and I enjoyed the food and cafe culture immensely. I knew this trip would be different (no more gluten or dairy!), but I hoped with Australia's focus on good, fresh food, I'd be able to follow a paleo diet while traveling with relative ease.
Traveling on a paleo diet in Australia
After not going out to eat for the last year, I was THRILLED that Australia seems to be on board with a Paleo approach to eating. Both Melbourne and Sydney have a few cafes or restaurants with a dedicated Paleo menu. Other cafes that focus on real food (with a whole foods, organic, gluten free, or vegan focus) often offered a Paleo-friendly option or two.
Before we left, I decided to experiment with adding egg and coconut back into my diet. Both ingredients are staples in the Paleo diet, but I had to eliminate both last fall. I knew eating out in Australia would be much easier (and more enjoyable!) if one or both ingredients could be back on the menu.
"Let food by thy medicine" – loved that a brand new cafe in Sydney displayed this quote!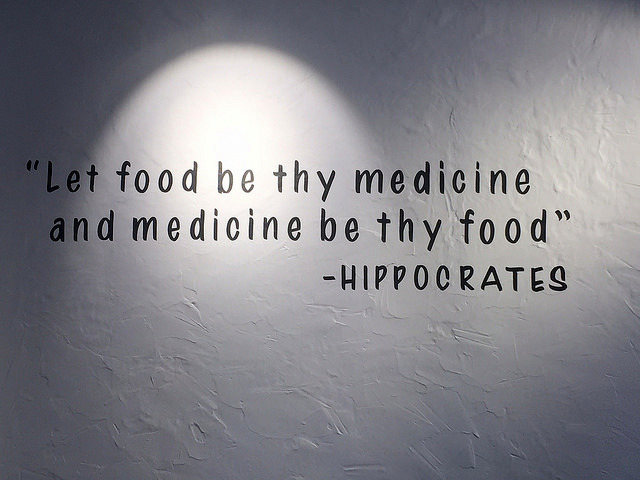 I spent HOURS (literally – I couldn't even tell you how many) researching for safe places to eat weeks and weeks before the trip. I poured over menus and began following restaurants on Instagram so I could see what their menus looks like. Because, hello, we eat with our eyes first.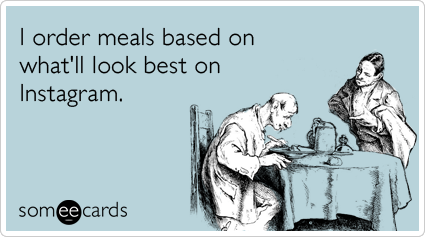 With a bit of research and planning, it's very possible to follow a Paleo diet while traveling. In this post, I'm sharing the yummy dishes I tried in Melbourne and Sydney. In the next post, I'll share what I did to make adhering to a Paleo diet easier throughout the entire trip!
Eating paleo while traveling in Melbourne, Australia
"Create your own meal" at Palate.
The "create your own meal" menu option allows you to choose one meat and four sides. From a great list of options, I chose slow roasted lamb ragout, grilled tomato with basil, green beans with sesame seeds, citrus infused sweet potato & macadamia mash, and roasted pumpkin with paprika. As delicious and healthy as the meal was (and the lamb was out of this world), clearly, my Instagram skills needed some work.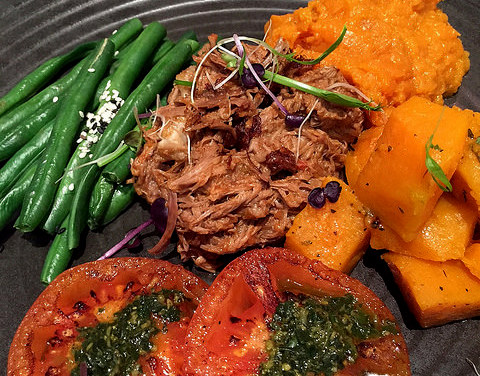 Choose from a variety of meats and veggies to make your own bowl of goodness at Thr1ve.
We enjoyed Thr1ve so much that we went four or five times during the 3-week trip! My first custom bowl? Raw zucchini noodles, spinach, slow roasted pork with crackling, tomatoes, and sweet potato. Why I loved this place so much? The choose-your-own-ingredients route means your meals is different each time, it's healthy food delivered to you quickly (perfect while you're traveling), and the concept is pretty easy to recreate at home (just need to take the time to slow roast pork!).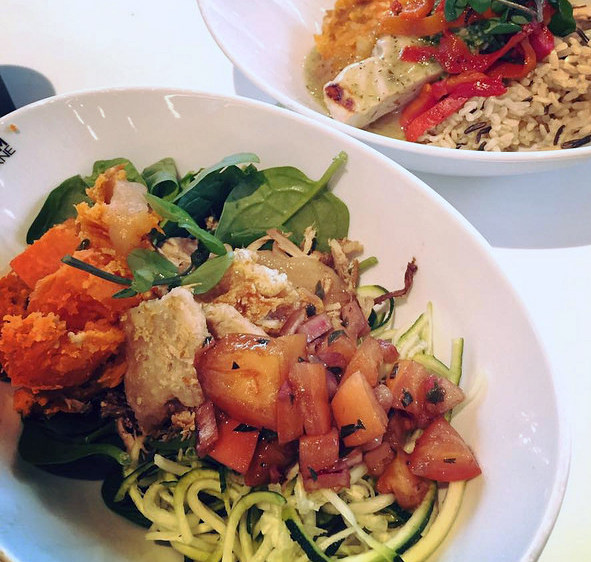 Eating paleo while traveling in Sydney, Australia
Clearly my Instagram skills were improving by the time we arrived in Sydney.
How pretty is this almond milk mocha at Henley's Wholefoods at their Alexandria location?!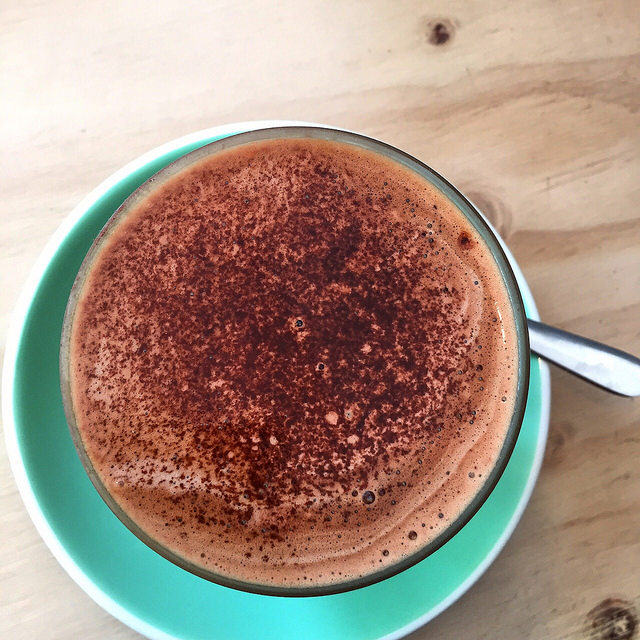 And their Maca Packed Hotackes (almond meal maca hotcakes, caramelized banana, chocolate nut crumble and coconut yogurt) weren't bad either. I was so busy devouring the first pancakes I'd had in months that I didn't even realize I had dunked my hair into the maple syrup until I saw drops of syrup all over my jeans. Oops.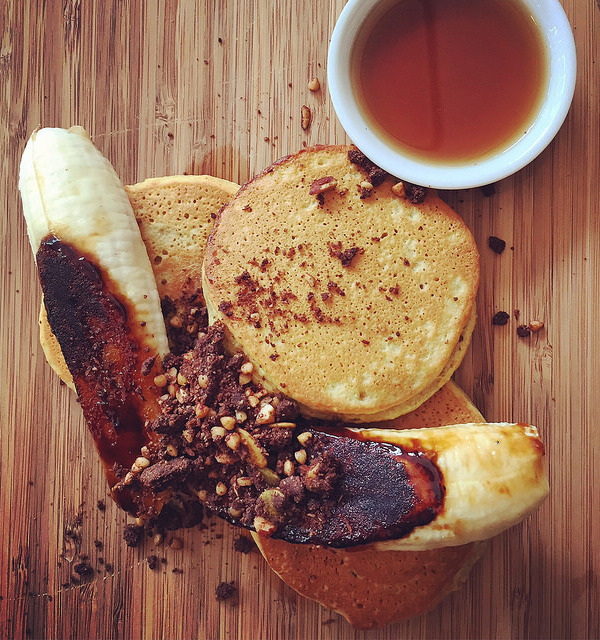 My favorite cafe of the trip? Proteini Cafe. Not only do they want you to LOVE YOUR GUTS (see the photo at the top of this post!), but they served up my favorite overall dish. The "Paleo Stack" features sweet potato and kale hash, pulled pork, poached eggs, grilled tomatoes, grilled asparagus, and olive oil pesto. I love asparagus but I'm not sure if it loves me, so I gave it to Gavin. I also limited the amount of kale I ate to a few bites, as it seems too much bothers me as well.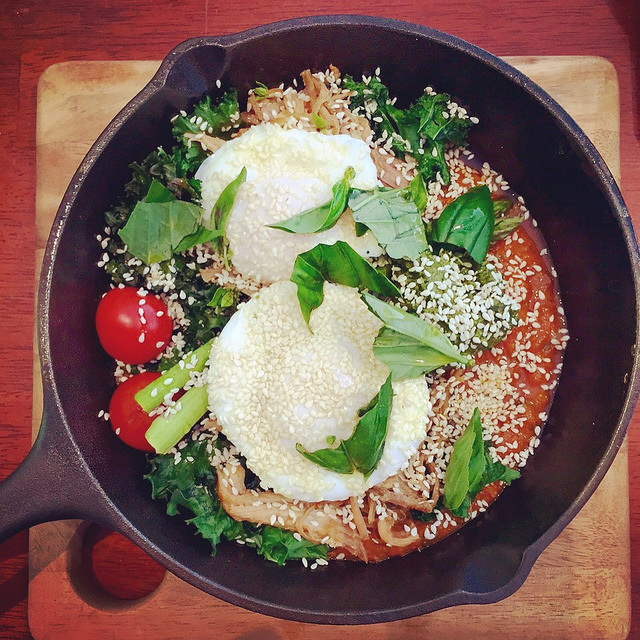 Gavin's Cavemans Bowl was also incredibly delicious, especially that turmeric sauce! The bowl includes roasted pumpkin, chicken, spinach, house relish, turmeric sauce, and protein bread.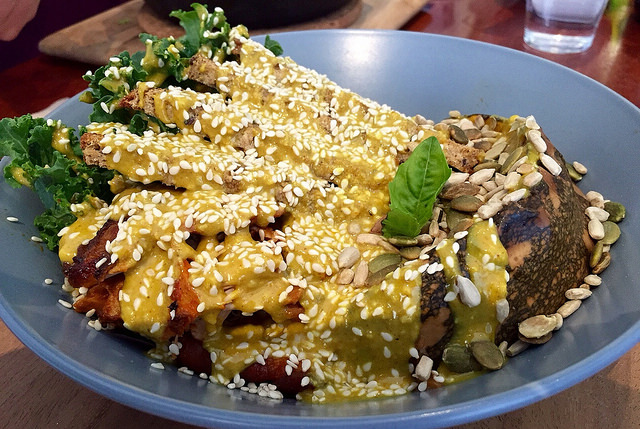 For dessert (paleo AND vegan friendly), Sadhana Kitchen more than had us covered. With so many options, it was hard to choose just one treat, but my husband and I shared the Banoffee Pie. I thought about getting a treat (or two) to take with us, but I know I would have eaten them within minutes!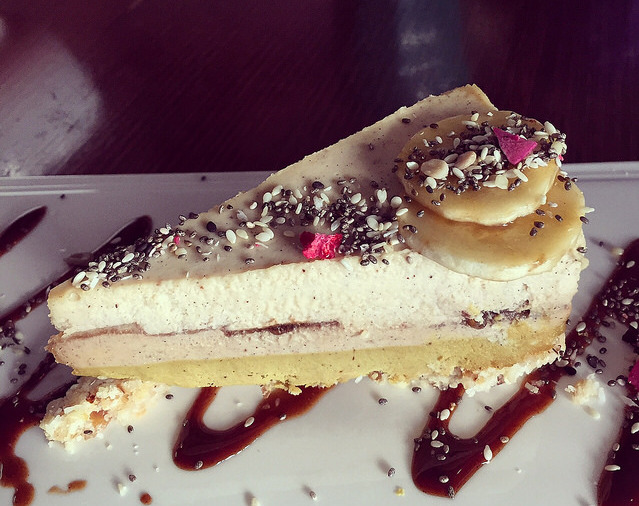 More Paleo adventures
Believe it or not, I didn't take a photo at every place we ate. Or I'd be halfway through a meal before I thought to bring out the phone. And sometimes, you just aren't happy with your image.
BUT, in case you're reading this and headed to Australia soon, you might also want to visit Paleo Cafe (their salted caramel hot chocolate was a mug-o-heaven), Patch (my french toast tasted like FRENCH TOAST), Pana Chocolate (you will love their Instagram account), Mr Crackles (skip the bread roll), Tall Timber (Chef Ryan has a must-follow Instagram account), and About Life (dine in or visit the food bar).
If you're on Instagram, you can follow the HealthyLifeHeather account for healthy food adventures, and if you're curious about how I adhered to Paleo when I wasn't dining out, the next post will have you covered!
Eat well, m'dears!